Welcome to

Rob Gustaveson's

tm
©1965, 1975, 1985, 1996, 2008,
2018, 2019, 2020 Gustaveson graphic-illusion.com
EON the Magazine of Graphic Illusions #41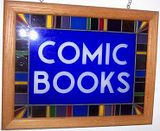 Comics / Film / TV / Comic-Art
This is a Blog.
Hi Happy New Year --2020--or happy Eternal now.

I'm still trying to sell my comics & comic art from my personal collection. (Here at graphic-illusion.com).

I've seen a lot of films and Netflix shows. I draw almost daily and play a quick game of tetris; Go to the gym daily; spend 14 hours online on facebook and other places sometimes. List comics daily. Go to the hot tub daily.

Thinking about selling toys again. Working on my website. Hope you are all doing well. Loving life having fun. Cutting back on sugar. Enjoyed the Avengers sequel. Photobucket for images has run havok over my sites. I am fixing them -- 120 different webpages. Sold some comics in a local comic store -- that was easy (consignment).

Buy my comics and comic art: 50,000 comics for sale carefully chosen for high grade for 50 years; 5% of no value the rest is valuable. See you soon. I accept Paypal.

Hope everyone is registered and will vote. -- Rob G. 1-13-20

----

Here it is October 2019 now. Nearing the sacred Halloween Day of fun and excitement. People take costumes seriously. I could see myself getting into it.

I have filmed (video taped) many Costume events/competitions for costuming and Masquerades over the years at Conventions both comic and SF and locally at events. I have the videos probably on youtube under urmzogna. But except for Halloween I am probably done taking photos at cons but will always photograph nature and scan comics..

Well we have the problem in the White House called t.rump. He and Pence should be booted out but it will be hard to get rid of these treasonous criminals since they have billions of dollars to try to buy elections and others. And look at what havok they have caused with malace for selfish unjust greedy reasons so far.

If he had a brain he'd leave office now and take Pence with him. Impeach and remove them both. They were not elected. Most people on Earth want them gone. We need a President who stands behind the Constitution. Many Laws were made to protect us from despots. And there are many corrupt people in office and all must be kept in check which is why I endorse Berni Sanders followed closely by Elizabeth Warren & Marianne Williamson (a positive important influence) --who as of Jan. 2020 has dropped out of the race. Biden is too antiquated and probably cannot beat t.rump money though I think he is a good person -- any Democrat is better than t.rump/pence/mcconnell.

There is nothing wrong, per se, with money but the misuse of it shall not be tolerated. Rule of Law is the only hope for America. We must work and defend Freedom from within. Fighting off Foreign and Domestic enemies matters (are there any real enemies? Isn't everyone actually you). I look at myself as I write these words as well.

I am always working on things. Always trying to evolve and upgrade and see all men and women as brothers and sisters. Enough Politics. Just register and Vote and let the vote count with a paper trail and a fingerprint. Get rid of the electoral college and end gerrymandering. One vote one human. (It's called fairness). Don't let money rule.

So back to my blog here. I should have cut it into smaller portions instead of one long page. So I will break it up. I have 170 boxes of comics for sale. Cannot list as many as living life matters like going to the gym, or a park, or eat at restaurants, see films etc.

But I do sit chained to my computer long hours always trying to get the energy to list more on ebay and now maybe facebook and bonanza.

I've lived through many eras or ages of comic books. Silver to present (Modern). I closed my 2nd store in 1996 (Ninth Nebula aka the Comic Book Museum). Opened my first store in 1978 for a terrific year. It was in Venice and I videotaped the entire year. From Hari Krishna's and daily body surfing to visiting Harlan Ellison's Iguana Con World Science Fiction convention in AZ. And back to the beach to finish my term of book and comic servitude. It was eye opening. Beautiful women roller skating into my New Age Book and Comic Shop in just bikini's what a great experience for a 27 year old. Catching Burglars on the roof. No parking. The bus stopping in front of my place obese fat males and thin gorgeous women, times they are a changin again.. Games of competitors.

I don't want good monopolies broken up. (There are plenty of bad ones). I think Facebook is a force for good that should not bow excessively to money and the evil side of our Government. But I want money out of our political process. The world has changed a lot since the days of John Wayne. So anyway Happy Halloween, Happy Thanksgiving and Happy Holidays to all.

Keep writing, drawing, selling, buying, collecting, slabbing comics and make them into films better than the comics are if you can.

So I want to literally share the wealth (of my comics) with you. Willing to give you 2 Mint comics and you slab me one and you keep your comic to do what you want with it. Let me know if there are any takers. I don't slab but had three comics slabbed many years ago. I've graded my whole life so I find it hard to pay to have someone else grade my comics. It isn't rocket science.

On a side note LASFS is mentioned in the CBS TV Show Strange Angel. A show I enjoyed. I also love The Blacklist (NBC) and NCIS (CBS). I hunt netflix daily.

Been listing more comics on my regular website and a new offshoot of 19 new links just typing up lists of comics. And I have a link site called Twenty Links which takes you to my facebook pages and pinterest. I call it the:

Catalogue of randomness ETERNAL SALE

2019 / 2020:

# 1 2 3 4 5 6 7 8 9 10 11 12 13 14 15 16 17 18 19... Click these 19+ new pages -- you can get there from page 13.

Great work by Gil Kane.

More lists and photos of my comics and art I own for sale to come. On sale now.

I have probably given up the San Diego Comic Con due to logisitics. It is more important to patronize full service comic stores. (Pass this on).

I do like Encinitas and many other places of nature in So. California where I grew up.

I avoid horror and zombie films & TV shows so it really bothered me that we had to wear a name badge that promoted Walking Dead. Should of had a choice as we did in the old days. Only bought some comics and two pages of comic art. IF I had more cash I'd have bought more art. Choice is freedom. San Diego needs to help the street people not hide them.

I am looking to sell my 400 Sun. Newspaper Comic Strips. Works by Alex Raymond and Hal Foster. Price Valiant, Tarzan and Flash Gordon by Alex Raymond. And others. See them. Buy them. You'll help yourself with this deal.

I sold toys for 6 months to a year and learned a lot. Returned them to the consignor (for now) -- he has many more I could list if you demand it. Also stopped offering my pals Lithographs though if someone wants them I can reacquire some for you. End of an era kind of. The toys I sold on Ebay brought me half (or more like just 20-40%) of what I sold on my own. At what point are you buying your own stuff back? But I was grateful for every sale.

Something feels wrong. Big money buys up everything good and ruins it for the little guys.

Saw the Joker liked it. As expected it won some awards. Avengers film was a masterpiece.
---
Here comes 2019, time passes, there it went..

First episode of Star Trek's 2nd season on cbs has appeared. Liked it. (9)

Saw a lot of films recently: Glass (8) (my rating). Missed the one after "Unbreakable" (9).

Mary Poppins (9), Spider-verse (8.5) I'm not into animation though have been pleasantly

surprised when I break my rule and go anyway). Aquaman (10). Venom (7.5). Favourite (7.5)

Bumblebee (7) Mule (7.5) Replica's (7) better than you think.
And here in January 2019 we lost another great, Batton Lash,

condolences to Jackie and others. Friendly positive person. Comic book creator

has left the planet (I assume). Rest In Peace.

Farewell Stan Lee.

Stan at my store ninth nebula 1986

NEWS FLASH MARVEL COMICS Long Time OWNER, EDITOR, PUBLISHER, AUTHOR, COMIC PROMOTER

and great guy STAN THE MAN LEE sadly PASSES AWAY.

He was 95.

Stan was the creator of the Fantastic Four, Thor, Hulk, Spider-man, Avengers, Dr. Strange,

X-men, Nick Fury (Sgt. Fury) and all the early Marvel Comics Characters.

Rest in Peace Stan Lee. You have earned it. Take a break from Earth. Excelsior.

MAKE MINE MARVEL true believers.

Most of his Cameos: https://www.youtube.com/watch?v=HnByuUqMeko&feature=share

We lost Stan the man Lee. A living icon. He passed away last Monday 11/12/18. He created Marvel Comics.

The multi-verse of comic-dom is sad but grateful for Stan Lee's extraordinary

contributions over many decades starting in the 1940's all the way until now.

He worked for Timely and owned Atlas and Marvel Comics. He was a man of will

which perhaps he got from being in the armed forces.

He was instrumental in creating Marvel Comics with Jack Kirby and Steve Ditko

and other artists, authors, inkers, letterers.

Stan Lee was truly the fountainhead of Marvel magic & creativity.

Now the big 3 are gone Stan, Steve and Jack but their work lives on in many ways.

His wife Joanie died last year. He leaves a Daughter.

(I shall piece together some of my initial thoughts here below (further down)).

"There is no birth no death" -- Bhagavad Gita

From the internet:

People singing about Stan Lee:

https://osmosisunlimited.bandcamp.com/track/infinity-for-stan-lee A Forward.

EPIC MAGAZINE one of STAN LEE's other great achievements with so many of my favorite comic creator's:

http://www.graphic-illusion.com/epic-magazine.htm0 Has video there too.

https://www.ebay.com/itm/The-Superhero-Women-by-STAN-LEE-Cadence-Simon-Shuster-Fireside-255-Pages-1977-/

Temporary links to Stan Lee Items I own, will relist a few times use the title to find it in ebay search.

His work also speaks for itself and he, at the least, lives on through it.

STAN LEE Continues:

STAN LEE HEADLINES: R.I.P. click stories

https://www.cnn.com/2018/11/12/entertainment/stan-lee-obit/

https://www.hollywoodreporter.com/heat-vision/stan-lee-dead-marvel-comics-real-life-superhero-was-95-

https://www.nytimes.com/2018/11/12/obituaries/stan-lee-dead.html

https://www.nbcnews.com/pop-culture/movies/superhero-stars-marvel-universe-mourn-stan-lee-s-death-

https://www.npr.org/2018/11/12/667022269/a-true-believer-remembers-stan-lee

https://www.washingtonpost.com/lifestyle/marvel-comics-legend-stan-lee-dies-at-95/2018/11

My first thoughts:

Stanley Lieber actually changed his name to Stan Lee legally. He passed away today. Rest In Peace.

STAN LEE was a kind man. Intelligent. Pensive. Probably a genius (he and his Brother) bringing great stories forward

(including creative Thor/Odin/Asgard mythology). He had Pizzazz. Sense of humor was keen. Good sport.

Had style. Stan appeared at an Autograph Party I threw for him at Ninth Nebula...arriving in a Limo!

Made it up to me when he missed an appearance at my con by coming to my little store next to LASFS.

Threw at least one more Autograph Party with him in the 1980's or 1970's at ACBC. That he took time out of his work at the

Animation Studio (Marvel) to show up was also very kind. For free.

(Though I did give him a copy of Savage Tales #1 just cause he asked.

I have signed copies of books he signed for me. So he was a giver. I liked him.

One time at a con I introduced him to my Daughter.

Wrote an article that included him when I closed my store.

Hell, I loved reading his stories as a kid. Just think of all the jobs he caused to happen even if inadvertently.

That's the end of the comic trinity Jack Kirby, Steve Ditko and now the great and Marvelous friend of all Stan Lee.

2018 was hard on the comic collecting universe we lost too many icons. I felt something strange on Saturday.

I wonder if Venom will be his last cameo or if a few were made in advance of his passing. It is a loss but allegedly everyone dies someday.

And he did make it to 95..!

The Soul is immortal. See you next life time Stan around 2099.

I visualize Stan embracing Steve & Jack and others on the Astral Plane.

My old MARVEL & THE COMIC INDUSTRY article from 1996:

http://ezinearticles.com/?The-Whole-Marvelous-Super-Ultra-Cosmic-Magical-Comic-Book-Universe

There are better fuller versions of this. May have sparked the slander campaign. Did Marvel almost go Bankrupt or did it?

11-12-18 r.i.p.: Rest In Peace fellow fans.

SF and Comic Fan Fred Patten Fanzine aficionado and general mellow good guy died today. r.i.p. Member of LASFS.

(Los Angeles Science Fantasy Society). He brought Manga and Furry Fandom alive to the America.

I knew Fred but not deeply. I saw him as intelligent. We shared a few laughs.

John Rogers,

I don't think I ever met him but am grateful for his work.

San Diego Comic-Con International's low-profile but influential president, died Saturday the 10th of Nov. 2018

after a brief battle with brain cancer. He was 57. They gave me free passes the last three years and I attended twice.

7-21-18 Memories

We lost Harlan Ellison, friend, famous Science Fiction & Speculative Fiction Author and Editor passed away from the Earth

for a time a couple weeks ago.

Harlan Ellison's work appeared in Comic Books... Avengers, Batman, Dream Corridor etc. (Including an EC comic story during the 1950's).

And the wonderful Illustrated Ellison. (with a flying car that I suggested he put into a story (no fooling) illustrated by Al Williamson)

who is one of my favorite artists of all time (in comics). Harlan's work spanned many genres. I own at least 10 paperbacks

some signed by Harlan in person. (One friend has every printing of everything Harlan ever put out in all editions).

He did not like the word Sci Fi. Smart people avoid abbreviation. More clarity if we just spell it out.

I knew Harlan. He took me and my gal (Dina at the time) out to dinner to La Fondue before Bladerunner was released. (He asked me for

3 elements to a story and all 3 appeared in the 1st and greatest Bladerunner film). I managed a comic store chain from 1976-1985 (except for 1978).

There was a great animation studio across the street (Don Bluth Productions) (giving context of Studio City and Sherman Oaks --where Harlan lived--

I visited him at the front door of his house 2-3 times --the 1st time as a teenager the other time(s) to deliver some graphic material to him).

Read his stories avidly as a youngster.

Printed a couple photos of him in my fanzine EON--The Magazine of Graphic Illusions #2 in 1967.

Once Harlan came as a guest to my Popular Culture (Journalism) class at California State University Northridge.

One was immediately energized and felt more awake. Harlan was a lit man. More aware and awake than most. I still think this.

On occasion people would fear him. He would take Studios to task if they owed him money or messed with his material or stole from him.

He fought for copyright for the good of all Authors/writers. I remember him swinging a microphone

like a deadly weapon at the Ellison roast. RIP Harlan. Really liked you and loved your fantastic work. He was a mench.

When I first heard Harlan in person at a SF con in 1968 I became a Harlan groupie for a

time following him to bookstore signings and SF conventions.

I knew his secretary Leslie S. even before I met Harlan so that was fortuitous.

I first met him in 1968 at a World Science Fiction Convention I and the entire audience were mesmerized by the energy

and presentation of Harlan on a panel with Robert Block, Ray Bradbury, Norman Spinrad, Robert Silverberg (what a crowd)

and many other Science Fiction Author's -- true greatness. I remember also seeing him at the Director's or Writer's Guild

stealing the show which was hard since Robin Williams was there as was Sergio Aragones,

Frank Miller, Stan Lee and many other pros for a Harlan Ellison Roast. What fun.

Rest in Peace Harlan (or kick ass, your choice).

And remain grateful you appeared at an Autograph Party I threw in your honor in the 1970's.

You brought your cool old typewriter with you to the party.

Iguanacon (SF CON in Phoenix, AZ) in 1978 (when I owned my New Age Bookstore in Venice, CA

where comics paid the rent) was another peak experience of the year -- I was 27

and it almost cost me my life then (my Venice adventures in illusion).

It is a shock to lose you. I wonder how many of us live with Death as an advisor (as said in Billy Jack).

Your work and Soul will live on. I call you a friend.

Also I remember the greatness when we walked around my College (you with a baseball bat) to end the insane

stupidity of the Vietnam War. You made a difference. You were the Counter Culture

along with Art Kunkin and others. I am grateful for having known you.--Rob G. 2018

--shanti om--

---
We lost Steve Ditko. Words cannot express (but we must try).

Steve Ditko was a human being and one of the three great beings who started Marvel Comics.

His Spider-man comic made you feel like you were the kid the bully picked on;

the guy who seemed nerdy trying to get the babe. The smart guy in school with no personal life.

His Dr. Strange character transported us to other dimensions of fantasy with characters

like Eternity and the Dread Dormmamu, Clea and the Ancient One.

And then there is Mr. A a break from Marvel and a influence of

Anne Rand brought us this straight laced crime fighter.

With old fashioned morality... morality lacking in our society. Ditko stated things were either black or white.

Either good or evil. In reality we are, on earth, all in duality or polarity. The tao would say yes/no.

Can't have one without the other. I have not read Ann Rand. Don't really plan to.

I printed some of the earliest Mr. A that I was sent and received as a kid/young adult.

See the back cover of Eon #3 (1969) featuring Mr. A. I printed it out of respect for the Master Ditko.

I liked his art. Be it in Creepy, Eerie and other titles at DC or Capt. Atom at Charlton or work at Tower.

Regardless of what anyone says Stan Lee Steve Ditko and Jack Kirby had that magic together.

And alone. -- Rob G. July 2018

https://www.facebook.com/Steve-Ditko-Comic-Fantasys-Greatest-Mystic-343810042679983 My Page.

https://www.villagevoice.com/2018/07/09/steve-ditko-beyond-spider-man

https://www.nytimes.com/2018/07/07/obituaries/steve-ditko-dead-spider-man.html?hpw&rref=obituaries&action=

click&pgtype=Homepage&module=well-region&region=bottom-well&WT.nav=bottom-well

https://www.hollywoodreporter.com/heat-vision/steve-ditko-dead-spider-man-creator-was-90-1125489

https://www.npr.org/sections/monkeysee/2018/07/08/626906895/remembering-steve-ditko-forget-kirby-dots-lets-talk-ditko-sparkles?utm_source=facebook.com&utm_medium=social&utm_campaign=npr&utm_term=nprnews&utm_content=20180708

Steve Ditko Comic Fantasy's Greatest Mystic--

When Robert Gluckson was ending Guts the magazine of intestinal fortitude (lol) and I was printing Graphic Illusions

(The words Graphic Illusions appear on issue #2 of Eon on the back cover (1967). And Keith Tucker was ending

Galactic Illustrations (That's a lot of "G's") I was handed by Robert Gluckson who got it from Keith Tucker either the

cover or the strip or both (don't recall been over 50 years) ( I had asked Ditko for a back cover to be like the

back cover to Eon #3 which I previously got from him (1969 for free)...of Mr. A). (In Beyond Infinity #1 there is a comic strip

that I wrote and Keith Tucker illustrated called the Fifth Dimension and is a homage to the Master Ditko).

So I did ask Ditko for a cover. And Ditko told me Tucker had one he wasn't going to publish.

So that is how I came to print the Ditko Back Cover at the suggestion of Steve Ditko!

The surprise was Ditko allowed the cover to also be printed partly in red and I think it really pops.

After Graphic Illusions (Summer 1971) was printed somehow Joe Pearson and Jim Shull just came in my room and took the Ditko

Mr. A story out of my hands as I was showing it to them. I think I got it directly from Ditko (I asked) but that like the cover could have

come to me via way of Tucker & or Gluckson. But I think I got the comic strip Mr. A directy from Ditko.. and left. Under the guise of friendship they came over and stole the Mr. A artwork from my room (still living at home, parent in the other room --didn't think to call the cops at the time).

I suppressed it until someone brought it up in that Blake Ditko book travesty of falsehood.

Which I have not fully read (don't have a copy). Right away Gary Groth/Blake

confused me with Gluckson.

(Groth had previously printed my interviews with Gerry Conway and Roy Thomas

I had even advertised with him,

felt especially raw and unjustified--no one there at fantagraphics was

interested in the truth and the emails with Blake Bell

were a fishing trip by Blake and he ignored all I shared & could remember--he chose

to go against the actual truth & facts which lead me to speculate some so called animator

friends and perhaps enemies lied behind my back could also be behind it (to be investigated)). )).

These print whores just want to sell books and are not interested in Truth. Know that.

Over time I memorized the images of the Ditko art work I had published. And while

I never thought of Mr. A as a philosophy I agreed with I loved his art and dedication to his work.

All his works mean a lot to me, including and especially

Dr. Strange, Spider-man, Creeper, Capt. Atom, Mysterious Traveler, Blue Beetle,

Ghost comics,the Question, DD, Hulk, FF, The Warren Washes as mentioned somewhere before).

We all entered the Mind of Steve Ditko comic fantasies greatest mystic.

I didn't want to say anything but that is what happened (and I was recently hassled by a

pretender bully about it all again attacking me on ebay and amazon).

The Blake Bell book has hurt me and my livelihood with it's massive falsehoods.

The one thing that needs to be known is that I did offer the comic strip once for sale to an art buyer in the realm --

of comics and art over 50 years ago.

Did not sell. Instead my "pals" got wind of me offering it took it and I never saw the comic strip again.

(Does Shull still have it?) I was trying to get $125.00 at the time almost 51 years ago (now) (around 1971).

I had the cover wrapped and ready to go to the post office to ship to Ditko and

Robert Gluckson appeared took it and said he'd mail it back.

Guess he didn't but he provided a letter to me that I read from Ditko that said he didn't have to mail it back.

Still being hassled to this day about it. Asked Groth for a retraction. He asked me to itemize.

I told him that every sentence about me was inaccurate in that lie fiasco book --

and every sentence concerning me was in error. A few years ago the

Ditko Back Cover sold for $70,000 (of which of course I received nothing).

I wish I could have kept all the art I have ever owned but that is how

I almost make a living after leaving grocery at age 25 and buying and selling

comics ever since. Once I owned a Dr. Strange Ditko Page -- that was power my friend.

One of the owners of Pacific Comics bought and traded me for it.

(Got it from Gluckson actually) It was a prize. The last page of the Dr. Strange DITKO

Strange Tales saga perhaps the best ever in all of comicdom.

I happen to be wearing a Spider-man t-shirt today. That seems like a strange coincidence.

Right on the heels of Harlan Ellison's passing we lose one of the best comic creator's.

It isn't actually sad because now after death there is no limitation. No pain no suffering. The being lives on...

But I am a little sad and discombobulated. He was great -- no doubt about it -- and his work shall live on.

Also coincidentally my computer died yesterday.

Ditko was generous letting all his early fans print his work for free. We loved it.

Loved everything he has done from all publishers...Marvel, DC, Charlton, Tower, Warren and elsewhere.

And everyone has to live. Speak to Tucker and Gluckson

(both on facebook) perhaps they will reiterate what was removed from Ink Stains

Graphic Illusion issue. (In the comments messages).

I shall perhaps write about why I loved Ditko's work a bit later. The flow.

The sparkles. The astral projection. The unique panels. The attention to detail (except at Charlton).

In the meantime life is short live it!

Ditko's work does stand on it's own merit.

---om peace---

Went to a couple local comic shows and sold for the 2nd and 3rd time in twenty years.

Will attend, at least, another show this year.
So I have them on my Ditko Facebook page -- a summary of facts. Dig down.
Missed the Comic Con San Diego International 2018
it was too close to another event I attended. Hope to go next year. Takes bucks.
---
Now selling my friends toys. He has a near lifetime supply contact me if
anyone is alive out there and is interested in buying what would take a lifetime to sell them all.
We have a lot of smoke outside right now lingering ...it's far and wide from CA and OR fires.
July 2018. And again now Nov. Oct 2018.
TV: Krypton is good. (Not ever as I envisaged it and Brainiac is in it and Doomsday).

My idea of Krypton did not have caste systems.

Enjoyed Equalizer.

Still love Supergirl. Blacklist still rocks.

I watch a lot of stuff on Netflix.

Film: Deadpool ok for slapstick fun.

Watched the Star Trek show Discovery. It was really swell. Loved it.

Worth it to pay $5 with commercials to watch it. $10 and no commercials.

Avengers great. Really great. Can't wait for the sequel.

Ant Man and Wasp film saw it liked it. Not that impressed. Will watch it again when on netflix.

Where did 2017 go?

Bernie Wrightson died. A true loss. A true Master of pen and ink. Met him at least once.
Regarding buying from me: Testimonials:


"Rob is easy to deal with, ships fast & is knowledgeable and fair." -- Susan Halpren

"I got a great deal." --David Nowlin

"My package came expertly wrapped with the contents well protected

and I got my comics for half their value." --Dana

"Rob paid full market value for my Silver Age." --Steve Samuels

"Buy this guy a Lamborghini ." -- R. Cash

I really do want to give great deals. And I think I do.

Samples:

http://graphic-illusion.com see my comics and art for sale. (And I buy).

Found a great comic store --it's large-- in Grant's Pass, OR.

11-15-16
Welcome again to Eon the -- Magazine of Graphic Illusion 35
Today (make that the last few days) I got some 8"x10" and other fantasy
lithoraphs from an associate and put some of them on ebay.
Took my main computer, a Mac, in for repairs today. Been going to the gym
6 days a week feeling better than ever but still do too much sugar.
Hope you had a fine Halloween. I did. I went to the parade and saw many
great ingenious costumes.
Saw Dr. Strange and it was wonderful. Favorite comic film and character.
Be sure to wait through all the credits for two not one but two glimpses of what is coming.
Today I listed a couple Flash Gordon's by Alex Raymond on Ebay
(have many more) and another store owner who sells art wants me to
consign my art with him for an auction.
Not sure I am going to do it. Maybe someday.
Heard there was an election, voted. Hillary won the Popular vote proving
once again the need to get rid of the Electoral College.
Been enjoying Blacklist, 2 Broke Girls (whoops now gone), Big Bang Theory,
NCIS, Bull (great), Cage / Powerman / Jessica Jones, DareDevil on Netflix. And more.
Updating my site graphic-illusion.com. I feel like I am retired.
Yet I work literally every moment.
I live at a unique place. I am vague because I don't know who if anyone reads my diary, vent. :)
Enjoyed Suicide Squad. Reacher was good. More on others I have seen soon.
Got the new Overstreet finally.
https://m.facebook.com/Comic-Books-Original-Comic-Art-Graphic-Illusion-
graphic-illusioncom-61237076870/?ref_component=mbasic_
bookmark&ref_page=XMenuController
Join.
Visit one of my facebook pages on comics.
https://m.facebook.com/groups/1472520106295789?refid=27 Join.
LITHOS 4 sale from me:
https://m.facebook.com/groups/981351361943996?
refid=27&fbt_id=1175438559201941&lul&_rdr#s_16c9a9f50471d02461ba6452f33b899c
The lithographs I have on consign from a pal are for sale and there is a link near the top and
bottom of my main webpage http://graphic-illusion.com.
Farewell to Leonard Cohen, Leon Russell, Robert Vaughn (from Man From UNCLE). r.i.p. all.
Thanks for stopping by, best, Rob
Time keeps flowing. And we are heading toward a higher age...Believe it, know it, act on it. All men are brothers.
And all Sisters are our Mothers and Daughters. To whom much respect must be shown. Take a breath.
9-17-16
VISIT MY WEB SITE AND BUY FROM ME:
Since last time I was here I had a heart operation and got quadruple
bi-pass surgery (want to see the scar?)
I'm almost back to normal. But now I exercise so I usually feel great.
Missed San Diego Comic Con & Oregon Country Fair, sadly due to it.
Here is a link to make up for those: NEW MUTANT COMICS:

http://graphic-illusion.com/new-mutant-comics.htm

Most of my older Doctor Strange Comics (I just scanned them for your viewing pleasure and to sell them):

http://graphic-illusion.com/doctor-strange.htm INQUIRE via email

r.gustaveson@comcast.net, thanks.

Also I just scanned and listed (these latest 3 links) and put them on ebay under my name there as graphic-illusion.

These Power Man Comics are listed because he is getting his own spin off show. He first appeared in Jessica Jones on Netflix as Cage. Aka Power Man.

http://graphic-illusion.com/cage-powerman-ironfist-comics.htm

all priced and graded by me (Over 50 years experience).

I have (BLB's) BIG LITTLE BOOKS for sale.

----

"The Blacklist: Renewed for Season 4 by NBC. James Spader and crew. Hooray. Miss the Player.

Sad we lost George Clayton Johnson and David Bowie. May they continue doing what they love on the next plane of existence.

Random blog continues:

Nov. Dec. 2015: GOT THE FRAZETTA GIGANTIC HARDCOVER in the mail yesterday --

the most spectacular Frazetta Auction Catalog I have ever seen. Doc Dave Winewicz (Will check spelling tomorrow).

WOW what a collection. And for sale via Auction. Told my friend he wants to buy one (it's$95) I told him he should bid.

Lots of other Artists too in it will be auctioned. Got it for FREE!

I made this. https://www.facebook.com/groups/1472520106295789/

permalink/1654265004787964/ list your stuff for sale.

Comics related and art.

Having a TARZAN SALE: (MARVEL DC) http://s3.photobucket.com/user/comiczar/slideshow/

Inquire. GOLD KEY / DELL COMICS

https://www.youtube.com/watch?v=gcxJS5qeii

https://www.youtube.com/watch?v=b36g8En

I sell Beatles, Kennedy and James Bond Items too.

Who remains my favorite comic character. You guessed it. Doctor Strange. Going to be a good film!!!

Freakin' love the New SUPERGIRL TV show too on CBS.

Sidenote: http://www.graphic-illusion.com/undergroundcomix.htm Available.